As teaching and learning support networks go, Atomi has left no stone unturned in its quest to contribute to a more effective and efficient classroom experience both for teachers and students.
Since its inception in 2013, Atomi (then HSC Hub) has pitched itself as a content creator and provider, a sort of Netflix for the HSC with a pay per month subscription to their expanding video library, which was a large receptacle for content covering the top twenty plus most popular subjects in the NSW curriculum.
As the library expanded, so did Atomi's focus. Providing students with an accessible content library to reaffirm their knowledge and understanding was a wonderful outcome, but the lure to potentially be in the classroom, providing technology-rich and online resources for teachers to complement their teaching as well as aid in content delivery was an irresistible dream.
Fast forward to 2019, more sophisticated technologies have brought the opportunity to provide something of real value for teachers as well as for students. No longer just a video content library, Atomi now also provides schools with interactive assessments as well as feedback data and analytics, bringing together the best of both worlds to enhance the teaching and learning experience. As an organisation, Atomi has a shared commitment to ensuring they remain a powerful and credible resource for schools, specifically consistent with the curriculum. The other key is to ensure that the Atomi product remains simple to use and useful, both in features and content.
The ultimate aim is to provide a resource which can be personalised for the student and teacher, through the interrogation of viewership and assessment data on a number of levels, from the individual student and across a whole cohort.
Teachers will be able to see at a glance where their students are up to and students will be directed to complete quizzes allowing teachers to monitor results in real-time. Using the principles of mastery learning, Atomi quizzes adapt to student responses, allowing stronger students to move faster while offering weaker students additional questions, targeted at what they might need. They provide students with direct and immediate feedback on their strengths and weakness and allow teachers to differentiate instruction. These intelligent tests and assessments are designed to thoroughly evaluate student understanding and increase long-term retention.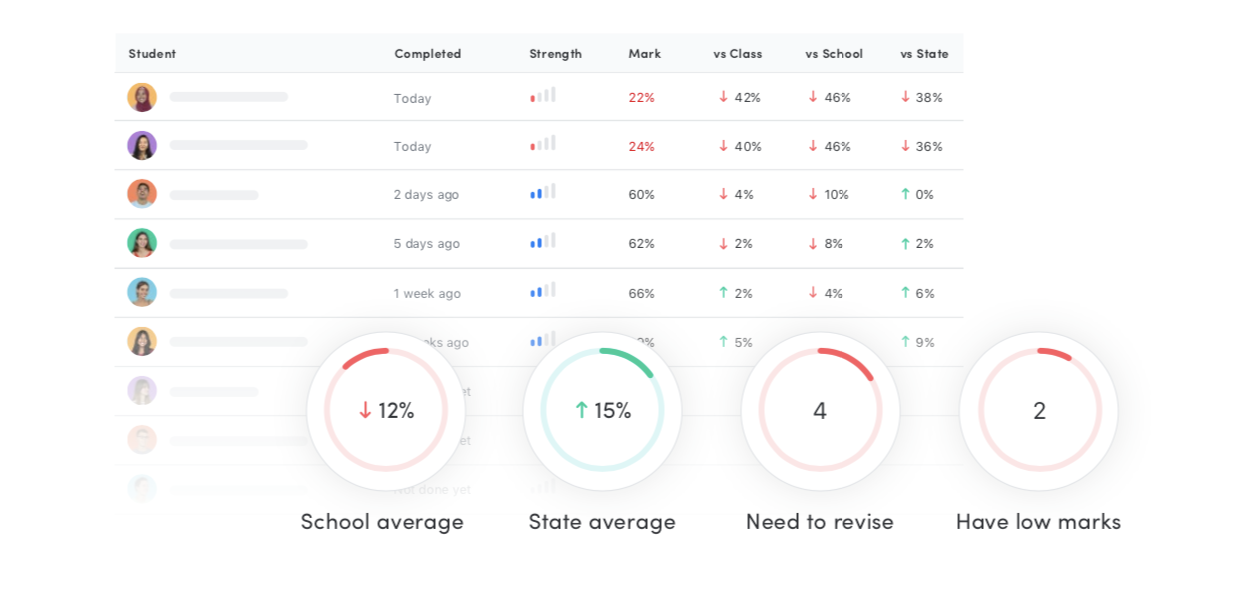 This makes it simple to keep students on track and accountable, but also allows teachers to target interventions where they matter most and create a more personalised approach to the classroom. Teachers can use individual strength scores to monitor student understanding and direct attention to those that have the lowest comparative strength. Pairing content with assessments in this way greatly increases engagement and retention.
The real star though is Atomi's Artificial Intelligence engine, which predicts how students will remember content over time and make personalised recommendations on what to revise next so teachers can spend more time with those that need it. This makes sure that every student is always working on what is most important to their individual success.

Atomi's data engine gives teachers and schools deep insights into how their students are progressing, who is falling behind and which areas are in need of the most attention. At a glance, teachers can:
Track student progress - See detailed viewership metrics around which students are interacting with the material and how they are progressing through each course.
Measure student performance - Understand which students are strong and weak and compare performance across classes, school and the state.
Enable intervention - Quiz data lets you see how each student is going and who needs help. It allows those with full strength to move to the next topic and makes teachers aware of the students with the lowest scores who need more attention.
Atomi also offers extensive 24/7 support ranging from answering student questions after school hours to executive level training and professional development for teachers and schools.
The newest feature released on Atomi is assignments. This feature allows teachers to assign students work, alert them of homework and track their completion from within the dashboard as opposed to copying and pasting the video link either into the school LMS or to their students via email.
With a new name also comes new possibilities, with a launch into other states and an overseas market. So, in its 2019 iteration, it is clear that Atomi has come a long way from the 'Netflix for HSC' days into a well-rounded platform giving teachers more time to do what matters most.
Interested in knowing more?
Why not jump on to our Schools page and organise a free trial for your school. Chances are your teachers and students will love it.
---
Liked what you read? Check out more great articles:
10 Ways to extend your classroom with Atomi
5 Strategies for managing change in teaching & learning
New syllabus guide: What's changed in Science
---